Art at Burtown
The Wendy Walsh Gallery
The new Gallery at The Green Barn is named after Wendy Walsh, who was one of Ireland's foremost botanical artists, and who lived at Burtown House until she died in March 2014 just shy of the age of 99. The Wendy Walsh Gallery, opened in February 2017, and is presently showing original botanical paintings by Wendy Walsh, and a series of portraits of Wendy by her daughter Lesley Fennell which were mostly done in 2013, the last year of Wendy's life, except for one which was painted in 1963 , when Lesley was at art school. It was done as a personal record of, and tribute to, her mother, and as a way of spending time together with her. The 2 drawings were done whilst Wendy ate her breakfast every morning, so each one was done over about 3 weeks, for about 10 or 15 minutes a session.  Exhibitions will be changing and mostly botanical themed - please see our news for the latest updates.
Zimbabwean Sculpture show 2017
This September, Burtown House continues its connection with art of all kinds with an exhibition of 50 pieces of stunning Zimbabwean stone sculpture. On display from 8th September throughout the wonderful gardens of this 300-year old country house in County Kildare, the 'Birdwoods at Burtown' exhibition connects New Zealand, Zimbabwe and Ireland – through family association, a multigenerational inheritance of creativity, and a shared entrepreneurial spirit.
An early Georgian villa built for the Quaker Robert Power in 1710, and passed down the female line through a number of Quaker families to the Fennell family, three generations of Fennells still live at Burtown today and we are as dedicated as ever to our family pursuit of creating beauty.
The New Zealand and Zimbabwean connection comes through our Fennell cousins, Bruce and Louise Stobart. Third-generation Zimbabweans, originally farming a highly successful 2,000-acre commercial farm north of Harare, Bruce and Louise were forced to leave Zimbabwe in 2003 when they were evicted from their farm without compensation.
Bruce and Louise moved to Hawke's Bay New Zealand in 2004 with their three young children, where they established Birdwoods in Havelock North – a gallery, sculpture garden, café and old-fashioned sweet shop that has now become the region's most popular visitor attraction, with over 50,000 visitors a year. Bruce and Louise are Australasia's largest importers of Zimbabwean sculpture and they have a year-round display of stone and metal sculpture on view in the gallery and extensive gardens at Birdwoods.
Joanna and I loved the idea of extending this connection to our home in County Kildare and giving our many Burtown visitors the opportunity to experience these unique artworks as well.
We hope you enjoy the exhibition.
SVETA RUMAK EXHIBITION AT THE GREEN BARN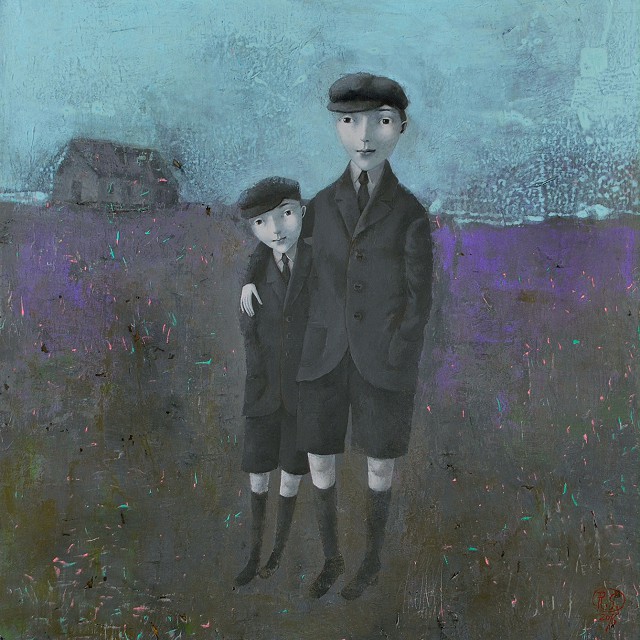 The Green Barn is excited to showcase the beautifully evocative work of Russian artist. Sveta Rumak's enigmatic work is a rich synthesis of her unique visual vocabulary with medieval Russian iconoclasm. The canvases are inhabited by humans and animals rendered in an earthy palette, set against very stylised but highly textured backgrounds. Like medieval Orthodox icons, her people have enlarged almond eyes with an otherworldly cast and long straight noses. The elongated figures seem weightless, and float in a spiritual atmosphere of spacelessness, without mass or shadow-casting volume. Also typical of icons, Rumak juxtaposes flat figures in ornately patterned garments with more fully modelled heads.
To read more on this exhibition ….
Whilst some of the emphasis will be on garden painting, we will also have other interesting exhibitions of painting, sculpture and photography. We intend to extend our outdoor sculpture, and are expecting to add new pieces throughout the year. We will keep everyone informed of these and more developments on our website and facebook pages. At present we have an exhibition of sculpture by Eileen McDonagh and Catherine Greene, which are displayed in the meadows and parkland around the house, as well as pieces by Shane Jackson and Sasha Sykes of Farm 21. These artists are well established and respected sculptors, and we are delighted to show their work. All work is for sale, and there are links to their websites below. We hope to add more outdoor sculpture soon.
Painting in the Garden
We also hope to encourage all artists, of whatever standard, to set up easels in the garden and be inspired! Just come along and paint for the day. We will also be running workshops and painting days, so please enquire if you are interested in hearing about these.
Come individually, or in a group, with or without a tutor. Lesley can also be contacted to give lessons or workshops. She is an experienced and sympathetic teacher, who has taught both beginners and the more experienced, throughout Ireland and abroad. She is often to be found with an easel set up somewhere in the garden, doing her own painting.