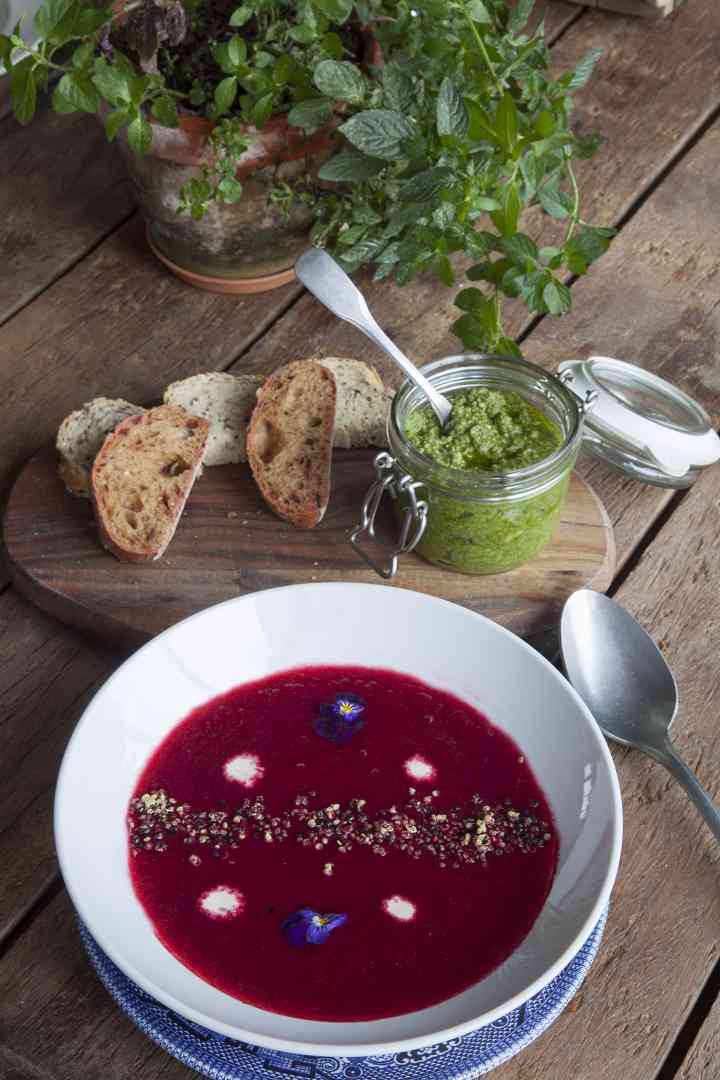 Roasted Beetroot Soup with Thyme and Garlic
Serves 4 people
Ingredients:
100ml Extra Virgin Olive Oil
1 medium white onion, 1 stalk of celery and 1 white of a medium leek all chopped 3 cloves of garlic, chopped, 15grams of Thyme leaves chopped
8 medium beetroots, peeled and chopped
600ml Vegetable stock
Sea salt
Freshly ground organic white peppercorns
Double cream to garnish
Method:
1: Place beetroot evenly on a flat tray and lightly season with the salt and pepper. Drizzle some olive oil over the beetroot and place in the oven for 20 mins at 150 degrees.
2: Heat the remaining olive oil in a large saucepan on a medium heat. Stir in the onion, celery, leek, garlic and thyme, cook until soft but not browned for roughly 6 mins. Add a pinch of salt and pepper for seasoning.
3: Add the vegetable stock and roasted beetroot then bring to the boil, cover and simmer until beetroots are tender, about 10 mins. Remove from the heat.
4: Using a hand blender, pulse until smooth. Ladle into bowls and garnish with a drizzle of double cream. Tip: Sprinkle some toasted quinoa on top for some texture.
To view our new Youtube series starting with Dermot Carey head gardener discussing our ethos on Beetroot and Joanna visiting the field scale site view The Green Barn and the Beetroot on You tube please click here.