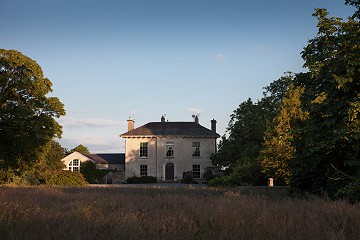 Originally one room deep, wings were soon added (only their faint outline remain). In the late eighteenth century, the house was enlarged with the addition of a bow-fronted dining parlour on the garden front with a drawing room above and a large kitchen below, with a grand staircase lit by a tall rounded arch sash window.
Particularly fine plasterwork was also added at this time, most notably in an arched alcove in the bow fronted-room, which is filled with a shallow fan and a delightful spray of grapevine, flanked by a pair of classical vases surmounting pilasters composed with foliage and naïve Corinthian capitals.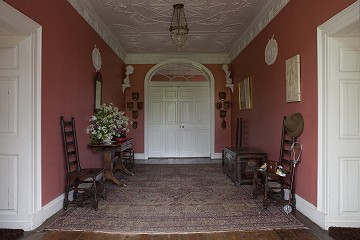 Elliptical arches, decorated with borders of foliage, mark the opening to the staircase, also decorated with borders of foliage and more delicate plasterwork on the ceiling. The hall ceiling is decorated with plasterwork in the manner of James Wyatt, with neo-classical swags and medallions, each of the four corners of the room has a classical bust quirkily mounted on a bracket.