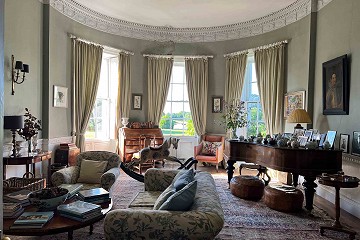 Early Georgian Villa
Like many Irish houses, Burtown passed through the female line: from the Haughtons to the Wakefields, the latter inheriting it in the early 19th century. It was during the Wakefield tenure that the facade was given a facelift: a fan lit entrance door, recessed in an arch; enlarged sash windows; and a roof with deep eaves.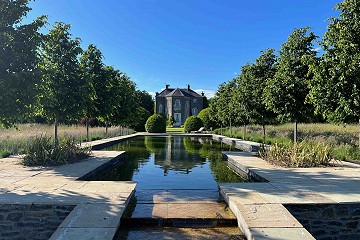 Heritage Gardens
The gardens at Burtown are made up of several areas, including large herbaceous borders, shrubberies, a rock garden, a yew walk divided by a pergola, a sundial garden, a walled kitchen garden, an old orchard, a more formal stable yard garden and a large woodland garden surrounded on all sides by water. This woodland, known as the Nutgrove, hosts a fine collection of candelabra primulas, hostas, ferns and iris, amongst other plants. There are many old roses, paeonies and clematis, and a walled vegetable garden that has been in continuous production for over 150 years.
Stable Yard House
The Stable Yard sits in the grounds of the historic Burtown House. Surrounded by gardens, the old stable yard which was built in the early 18th century once housed the horses and stable men who facilitated the travel movements of the family, one side for horses and grooms and the other for carriages and traps. More recently the stable yard has become a beautiful garden with tall lavender and potted plants, facing south it can feel like you have landed in Provence. Decorated in James and Jo's unique style, it's a beautiful, characterful house full of family art and antiques, and was their first home when they married and moved back to Burtown. It has an old-world feel and cosy touches like open fires, wood burning stoves and an Aga in the kitchen.