James & Joanna
We both grew up in Irish country houses. Our background is photographing and designing interiors and hospitality, growing and eating good food and travelling. We understand how important your wedding day is so we always like to say that anything is possible, so we are open to discussion on any ideas and requests you might have. If you are looking for rustic elegance made unique with your own individual style, please come and visit to see how we can help.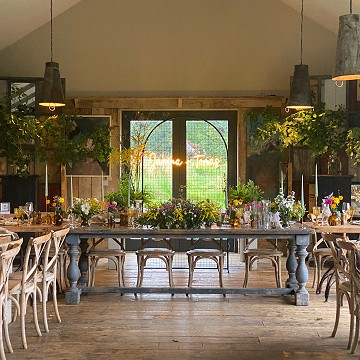 Venue
Your celebration meal can be held in our wonderfully rustic, contemporary and Scandinavian-inspired Green Barn Restaurant. The Green Barn is a visual feast. A far cry from a hotel, if you are after something unique then you have found your wedding venue. We love attention to detail. The visual feast, the food, great drinks, the music and how it all gels together. Think beyond round tables and white table clothes for design-led, unique and inspiring themes.
Heritage Gardens
Our heritage gardens offer an infinite number of locations for wedding photographs. This stunning natural backdrop is a true reflection of what each season has to offer visually. Our gardens are made up of several areas, including large herbaceous borders, shrubberies, a rock garden, a yew walk divided by a pergola, a sundial garden, a walled kitchen garden, an old orchard, a more formal stable yard garden and a large woodland garden surrounded on all sides by water.