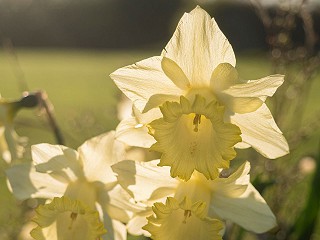 Assumpta Broomfield & Mary O'Brien. This Saturday 18th April 2015, 12.00. Noon.
Tour of the garden and talk and also - Displays of flowering heritage bulbs in pots.
The Gallery Cafe will be serving delicious lunches from produce in our garden and cakes and other goodies. This has to be one of the best years for Daffodils at Burtown with so much bloom, as well as many other flowering plants.
View some images of what's in bloom right now on our Facebook page here ».