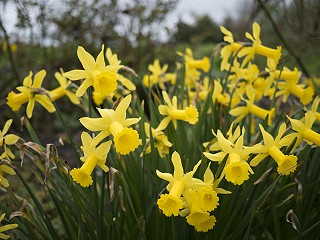 April at Burtown is an exciting month not just because summer is around the corner and we are all planting and preparing the kitchen gardens, but because of the large historic collection of Daffodils that show themselves throughout the gardens, woodland and parkland at Burtown. As each year passes the swathes of yellow colour increase and expand to different areas especially in the front parkland where they get a happing hand. Its a magical time to visit the gardens with so much colour and the flower beds beginning to explode with growth.
Walk & Talk with renowned Daffodil expert Mary O'Brien
We are excited to be welcoming back the wonderfully knowledgable Mary O'Brien to give a walk and talk around the gardens about the history and heritage of Irish and heritage Daffodils. This event will start from The Green Barn at 11.30am on Saturday 13th April.
Brunch, Lunch & Dinner at The Green Barn
The Green Barn will be open for brunch from 10am and lunch from 12.30 and dinner from 6.30pm.
We look forward to welcoming you.