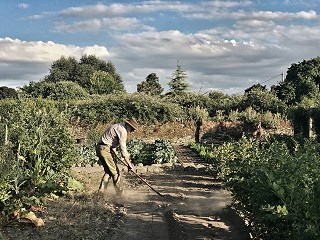 Dermot Carey, head vegetable grower at Burtown House & Gardens, will lead a one day practical workshop on 'growing food at home' on Saturday April 27th.
Aimed at beginners and those with experience in vegetable growing, the day will cover everything from choosing plant varieties to sowing seeds and harvesting. Expert advice will be given on making the most of limited spaces, extending the growing season and investing in the right tools.
Dermot Carey has been creating and developing fruit and vegetable gardens for over thirty years. He is currently working with some of Ireland's finest award-winning restaurants with kitchen gardens.
The day begins with an indoor session followed by a tour of the walled garden. Participants will then enjoy a delicious seasonal lunch at The Green Barn restaurant using produce straight from garden.
The practical hands-on element takes place in the afternoon and the day closes with a question and answer session. While tools will be provided participants are encouraged to wear appropriate clothing for the outdoor section.
The workshop is suitable for home gardeners, experienced growers, chefs and food enthusiasts and people working in the hospitality sector. It is based around promoting a healthy sustainable lifestyle, encouraging mindful awareness of food and connecting with our natural environment.
€115 per person - includes morning coffee and seasonal lunch at our award-winning restaurant.