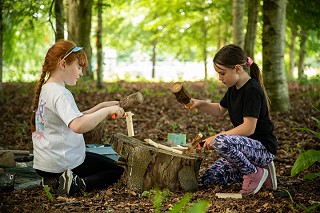 This Autumn come and join Dúlra at Burtown House to wade through the autumn leaves, collect conkers, build dens, learn bushcraft, and light campfires at Forest School? And your little ones are welcome at Garraí na Leanaí, Dúlra's new morning sessions for preschoolers and their carers - grandparents especially welcome!
Garraí na Leanaí (ages 2 - 5): Thursdays 11:00 - 12:30 Forest School (ages 5 - 12): Thursdays 15:15 - 17:15 All sessions start Thursday September 28th 2023.
See our website www.dulracilldara.ie for all our Fómhar courses open for booking, with half term holiday camps soon to be announced! Questions? Email Kate Maher at eolas@dulracilldara.ie, message us on instagram dulra_cill_dara or call us on 0896037769.
Come and explore… Táimid ag tnúth le fáilte a chur romhaibh!